---
Knowing how to check the oil level in your car is one of the most important things new car owners in Oshkosh can learn. Motor oil protects all the moving parts of your engine, so it's important to ensure that your car oil is at the correct level and is changed periodically. Check your owner's manual for more information on what type of car oil your vehicle uses, and read our guide below to learn how to check car oil. Contact our service department for more maintenance tips or to schedule an appointment with our team in Fond du Lac.
Learn How to Check the Oil Level in Your Car
Performing at-home maintenance is a breeze with our guide to checking your car oil. If you want to check your car oil, the first thing you should do is consult your owner's manual for what kind of oil monitoring system your car uses. Some newer vehicles have an electronic monitoring system, while older models require manual oil checks. If you find that your vehicle requires a manual oil check, read on for information on how to check car oil at home.
Park your car on even ground and make sure your car is off and your engine is cold before proceeding to the next step.
Find the dipstick under the hood of your car.
Remove the dipstick and wipe away any oil from the end of it.
Insert the dipstick into its tube, then pull it out again and look at both ends to determine the oil level.
No matter what kind of dipstick you have, it will have lines to indicate the proper oil level. The level is good if the oil streak is between two marks or within a cross-hatched area. If the oil streak is below that, you need to add more oil. When getting additional oil, make sure to buy the oil grade recommended in your owner's manual, as buying the wrong oil for your model will decrease the performance of your vehicle.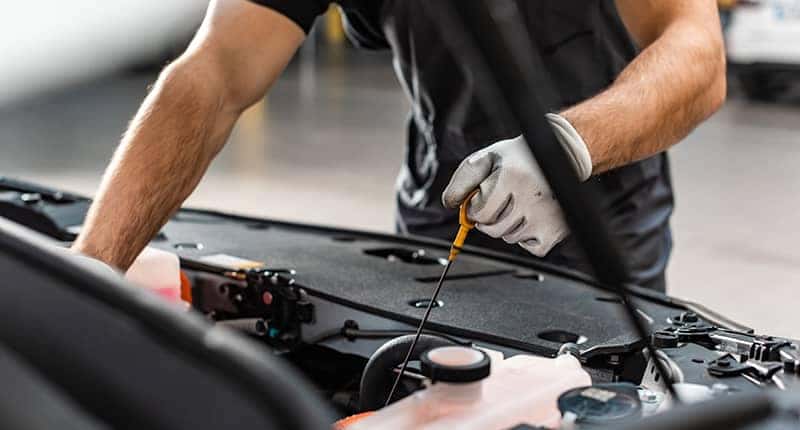 Importance Of Checking Your Car's Oil Level
Knowing how to check the oil level in your car is important for your vehicle's overall health and upkeep. You should check your oil once a month and have it changed at least twice a year. Checking your oil every month will ensure you have enough oil to get you from Sheboygan to Beaver Dam without engine trouble. If you notice your oil levels are uncommonly low, check the bottom of your car as low oil may be a sign that your car has a leak. You should have your oil changed twice a year or more depending on the maintenance schedule provided in your owner's manual.
Visit Holiday Automotive Service Department in Fond du Lac
Our expert service staff can get your car serviced and back on the road to West Bend in no time! Learn how to jumpstart your car and rotate your tires in in a few easy-to-follow steps. Our service specials can help ease the financial burden of professional maintenance. Visit Holiday Automotive today for exceptional service.