---
Having trouble starting your vehicle? There's a chance that a fellow Los Angeles driver can help you jump-start your vehicle. This everyday process sometimes confuses people, so the service center at Holiday Automotive Group will cover how to properly jump start a car for those who want to make sure they're doing everything right below.
The Proper Way to Jump Start A Car
Many West Covina drivers run into car battery trouble, so it's useful to know the best way to jump-start your car battery. Here are step-by-step instructions for how to jump-start a car:
Supplies: All you need is a pair of jumper cables and another vehicle with a working battery to help you out.
Position the Vehicles: Make sure you're in a safe Riverside area, with both vehicles turned off and their parking brakes engaged. Now you can park the vehicles so that they are facing each other.
Find and Inspect the Batteries: There's a chance you'll need to remove a plastic hood to see the battery terminal. Now find the positive and negative terminals. It's good to make sure they are free of corrosion.
Connect the Positive Ends, Dead End First: Place the red clamp on the positive end of the dead battery, then do the same for the working one.
Do the Same for the Negative End: Use the black cable to repeat this process on the negative side of the terminal.
Connect the Final Clamp: You should place this last clamp on an unpainted metal surface of the car frame.
Start Your Engines: The good battery goes first, then the bad one.
Leave Your Vehicle On: After you jump start your car, leave your vehicle on to allow the battery to recharge.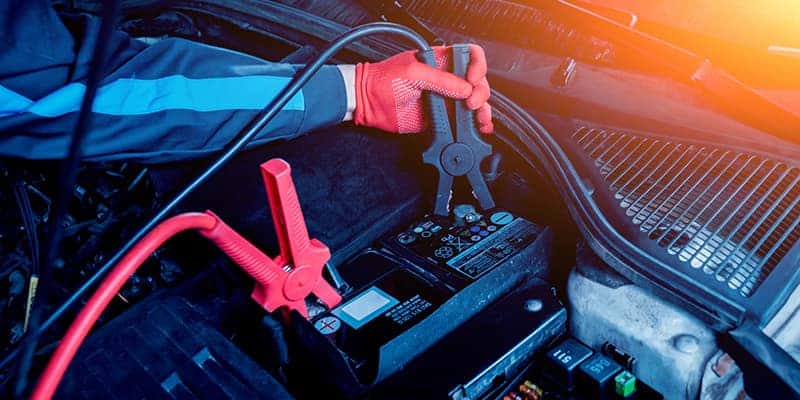 How to Jump-Start a Car: Troubleshooting
Your car won't jump-start? You may have a serious problem with your battery that requires you to schedule service in Los Angeles. Jumpstart car service can fix some problems, but here is what to look for if you're having issues:
Clicking Sound: If your car makes a clicking sound as you're trying to jump-start it, that could indicate an issue with the starter. Getting your car serviced should fix this problem.
Engine Won't Start: Sometimes, your electrical system will turn on, but your engine won't work. It could indicate several problems with the battery, starter, ignition switch, and more — all of which is fixable with the help of a parts center near Riverside.
Find Jump Start Car Service and more at Holiday Automotive
At Holiday Automotive Group, our expert technicians want Los Angeles drivers to be able to find a jump start car service and we also want them to feel empowered with our DIY service tips. Contact us with any questions about the proper way to jump-start a car today! Looking for more "how-to" information? From learning how to turn off a car alarm to how to check car oil, we've got you covered!